It's always struggle to find nutritious food to snack or to bring at work. My favorite is an healthy protein bar because it's easy to carry and eat. I always wanted to do my own.
I tried many recipes, but couldn't find one that was good, easy and consistent.
After a few attempts, I found a great recipe for sugar free and healthy protein bars.
I made some adjustments based on personal to speed up the process.
This recipe churns enough bars for a week, so you can do it over the weekend and enjoy it for the whole week.
Let's go!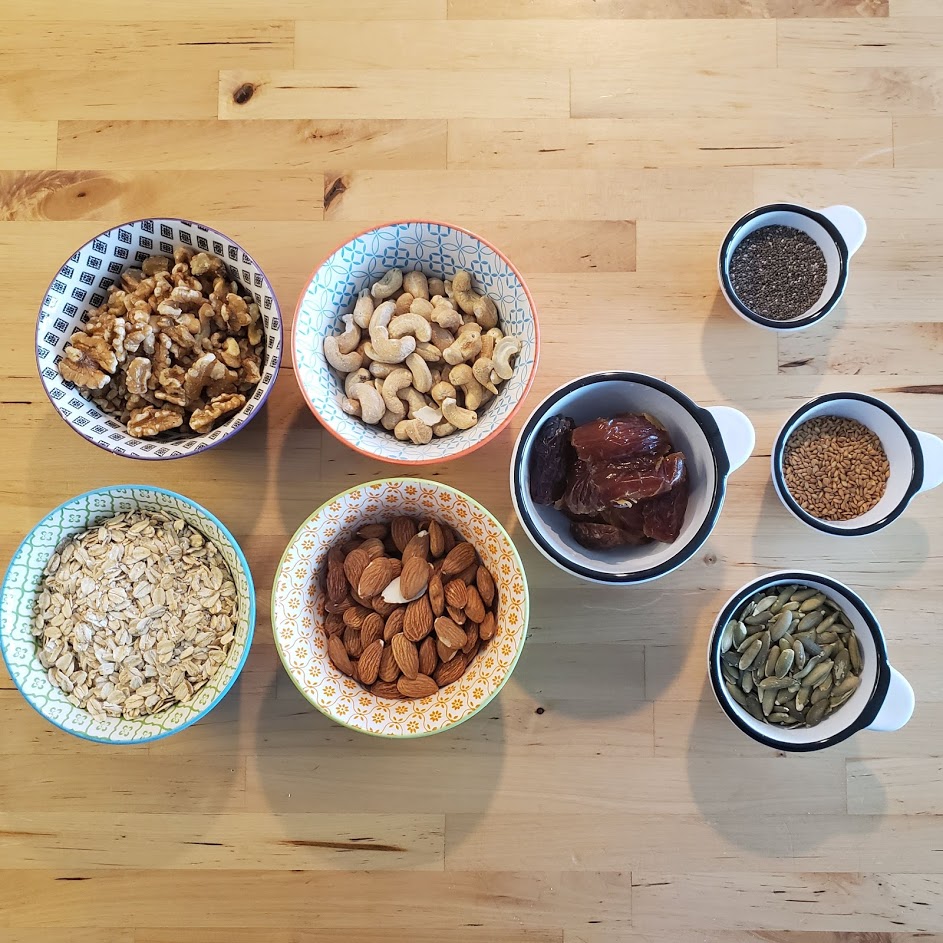 Ingredients
100 gr Rolled oat
100 gr Walnuts
100 gr Almonds
100 gr Cashew
10 Dates, pitted and soaked in hot water
50 gr Pumpkin seeds
2 tbsp. Chia seeds
2 tbsp. Flax seeds
You need a food processor to powder the nuts. I use a Vitamix, but any food processor is fine.
Instructions
Put all the nuts (except a handful) and the oat into a food processor. Pulse until they are reduced to a powder.
This is the base for your bars.
Separately, chop the nuts that you previously set apart. This will give your bars a delicious texture and crunchiness.
Check below the size and consistency of my chunks and poweder.
Now process the dates and reduce them to a paste.
Combine it with the powdered and chunky nuts and add all the seeds (chia, flax and pumpkin).
Mix all the ingredients until they are well combined. If the mix feels wet, add more oat, one tablespoon at time.
The mixture must feel not too sticky or you'll have hard time making the bars.
Transfer the mixture on a tray, covered with parchment paper. Flatten the mixture and use an extra parchment paper sheet to press it well.
Put it in the fridge for about an hour to settle. Then take it out and you're ready to cut the bars.
Cut the bars in the size you like. I prefer mine in 1 inch squares.
Store the bars in a airtight container. If stored correctly, they last 2-3 weeks.

Try them and let me know!