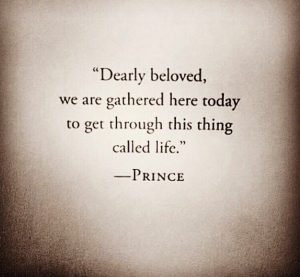 Prince is gone! He was the fist artist I actively listened. I was 12.
I discovered music listening to Purple Rain, 1999 and Sign 'o the Time.
For many years, he was my idol, for his music, the style and the message he brought to us.
I still remember most of his lyrics and can sing most of his songs.
Prince thought us that it's ok to be ourselves, no matter what.
Trying to think of my favorite songs: Adore, Let's go crazy, 1999, Controversy, I would die 4 U, International lover, …
As I read my twitter, I thought I could save a few for you all:
Prince Street station, NYC, tonight: pic.twitter.com/SHr5nbGI2y

— Maureen Johnson (@maureenjohnson) April 21, 2016
In honor of Prince, an early look at next week's cover, "Purple Rain": https://t.co/lF0Nwyd7q8 pic.twitter.com/myN15OxsCO

— The New Yorker (@NewYorker) April 21, 2016
"'A strong spirit transcends rules,' Prince once said—and nobody's spirit was stronger, bolder, or more creative." —President Obama

— Barack Obama (@BarackObama) April 21, 2016
A purple nebula, in honor of Prince, who passed away today. https://t.co/7buFWWExMw pic.twitter.com/ONQDwSQwVa

— NASA (@NASA) April 21, 2016
15 of Prince's most iconic fashion moments: https://t.co/LogwRW4Wrd pic.twitter.com/wiXyPHEmqZ

— Us Weekly (@usweekly) April 21, 2016
Niagara Falls turned purple on the day Prince died: https://t.co/BYOnTsjRk1 pic.twitter.com/PYZhzPTOWz

— Consequence of Sound (@coslive) April 21, 2016
11 Songs You Didn't Realize #Prince Wrote, From 'Manic Monday' to 'Stand Back' (Videos) https://t.co/bYaYvdV2Xw pic.twitter.com/DQjP64g2xB

— TheWrap (@TheWrap) April 21, 2016